Kim McVicker Cmht, NLP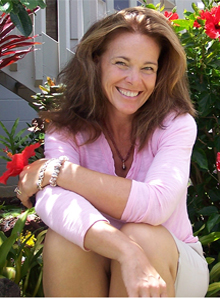 For 20 years in my private practice I have used a blend of traditional and alternative modalities with individuals, couples and groups. My story isn't one of instant enlightenment—at least not applied outwardly. Instead, I would learn a small lesson—or perhaps a big lesson, and then take a year or 3 to actually implement the changes that would integrate said lesson into making me and my life better. And during those less than joy filled years, while feeling "Oh, so superior" about what small strides I had made, I felt justified in my lack of tolerance for the rest of humanity!
This particular choice of the slow, self-sabotaged path to personal growth has gifted me with an innate ability to laugh at myself, and others! (With them—really!) Having been the perpetrator of all that is considered mean, ugly, self-serving, shallow and hurtful, and reconciling that within myself, I have been left with a deep, unshakeable love for my fellow beings. I am always amazed that when my humanity rears its ugly head—how quickly I can acknowledge and redirect my thoughts without judgment, allowing even deeper love and connection to flow.
This translates into my sessions as pure presence, humility, acceptance and authenticity. I have the ability to see the REAL you and hold a space for you to express that Essence—the highest version of you. It is in this space where the gap between your current experience and the experience you long for is bridged. This is the space where true transformation can take root.
My approach is direct with lots of practical, commonsense strategies derived from connecting you to your own inner guidance thus re-establishing a deep connection with self. I know that you already possess the knowledge to transform. Our work together will awaken you to your true nature, and provide the skills and strategies necessary for living a congruent and awakened life. A life where you are aware, awake and vital—A life of intention and purposeful choice!
Education~Experience~Facilitating
Matrix Energetics Practitioner & Master Harmonic Resonance Technology
Access Bars Practitioner
Conscious Systems Energetic / Spiritual Repair
Life Coaching / JFK University-Ford School
Spiritual Life Coach—Coaching From Spirit (.com)
Spiritual Direction
Cert. Massage Therapist; extensive study in anatomy and physiology, energy studies
Deep-tissue modalities and 21 years of continuing education
Shiatsu Massage Certified in Japan by the Shizendo-Kai Institute
Japanese Energy Healing and acupressure therapy
Massage and A&P Instructor of various modalities and curriculum development
National Association of Transpersonal Hypnotherapy—Master Practitioner
Time-Line Therapy / Regression Therapy
N.L.P. Master Practitioner Level with the National Federation of NLP
Ho'o'pono'pono
Yoga Instructor
Bio-Enegry with Mietek Wirkus
Jorei Healing
Reiki Level 2
Touch For Health
Feng Shui—Black Hat
Extensive study with Anita Lucia Briggs & Elyse Hope Killoran in human potentialraising frequency and in depth study of the work of ALMINE
Natural Gifts and a lifetime of exploration of Intuition, Energy, Healing and Inter-connection